Samsung DeX transforms flexible and mobile working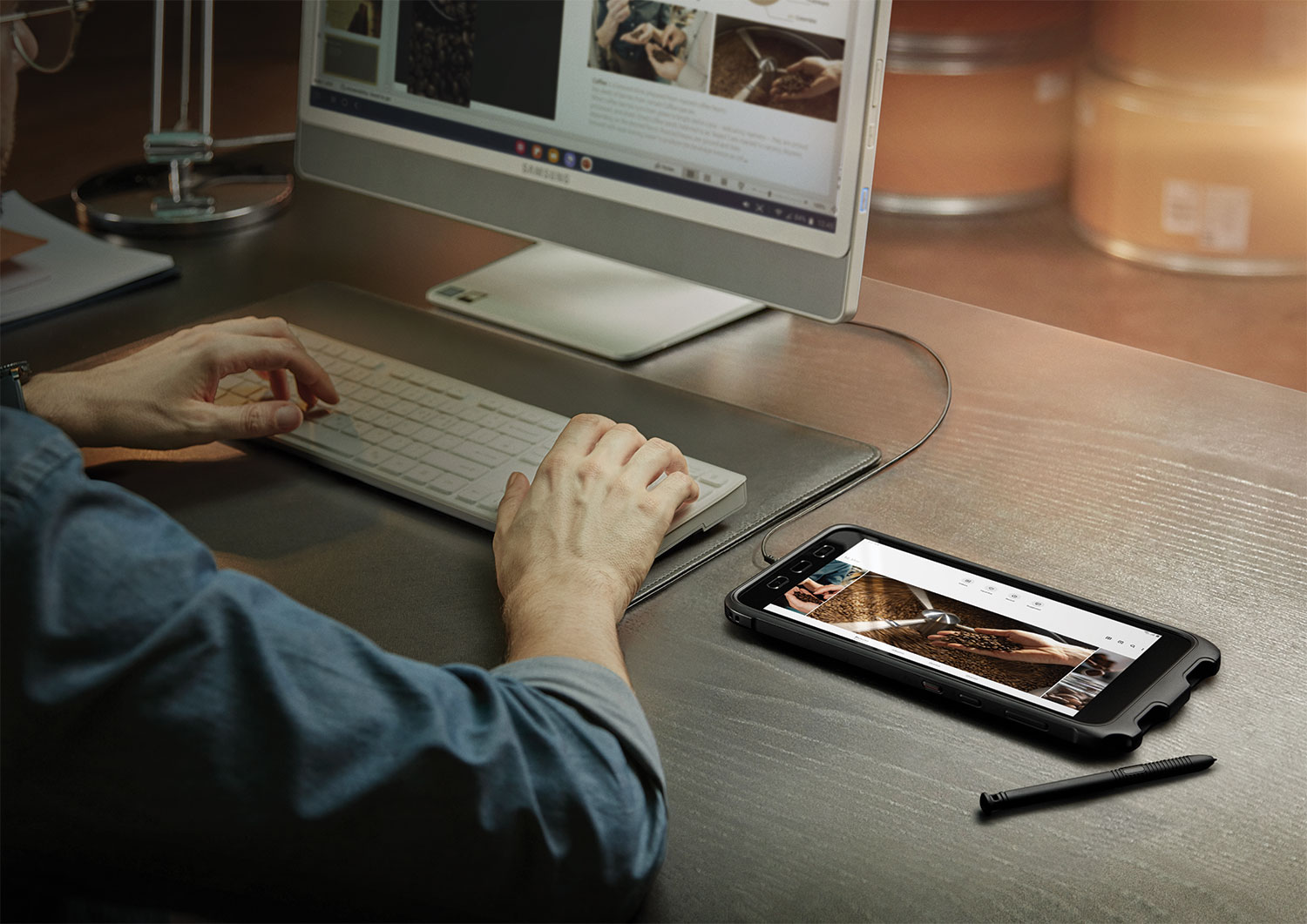 Take your business with you, wherever you go
What's new?
For years we've talked about the processing power and storage capacity of smartphones, but screen size and ease of access has limited their business application. Samsung DeX unleashes that computing power, seamlessly transforming Galaxy mobiles into a desktop experience. Connect your Samsung phone to any screen and interact with documents, presentations, videos and apps on the big screen, as easily as on your PC or Mac.
Numerous business applications
Remote working: whether facing down a pandemic or creating a flexible workforce, kit your team out with a DeX compatible Samsung smartphone and there will be no more chopping and changing between devices. Staff simply connect to a monitor in the office or at home, able to take calls on their phone whilst working on the big screen in Office, Google Docs etc.
Cross-site working: think hospital, school, transport hub, warehouse, factory or construction site where staff move around. Doctors, nurses, engineers, operations and property managers simply connect to a monitor to deliver essential messages, check files and complete reports. No more squinting at a small screen, filling in a form on a tiny keyboard or painfully logging in to workstations and trying to find the right file – they just start where they left off. It is the perfect solution for 'hot-desking'.
Presenting on the road: sales consultants, real estate agents, and designers can use their Samsung device with a portable monitor to deliver meeting room quality presentations right in their client's office or living space. Be ready to roll in seconds and never have to worry about connecting to someone else's screen again! Simply use your phone or click to swipe from one slide to the next.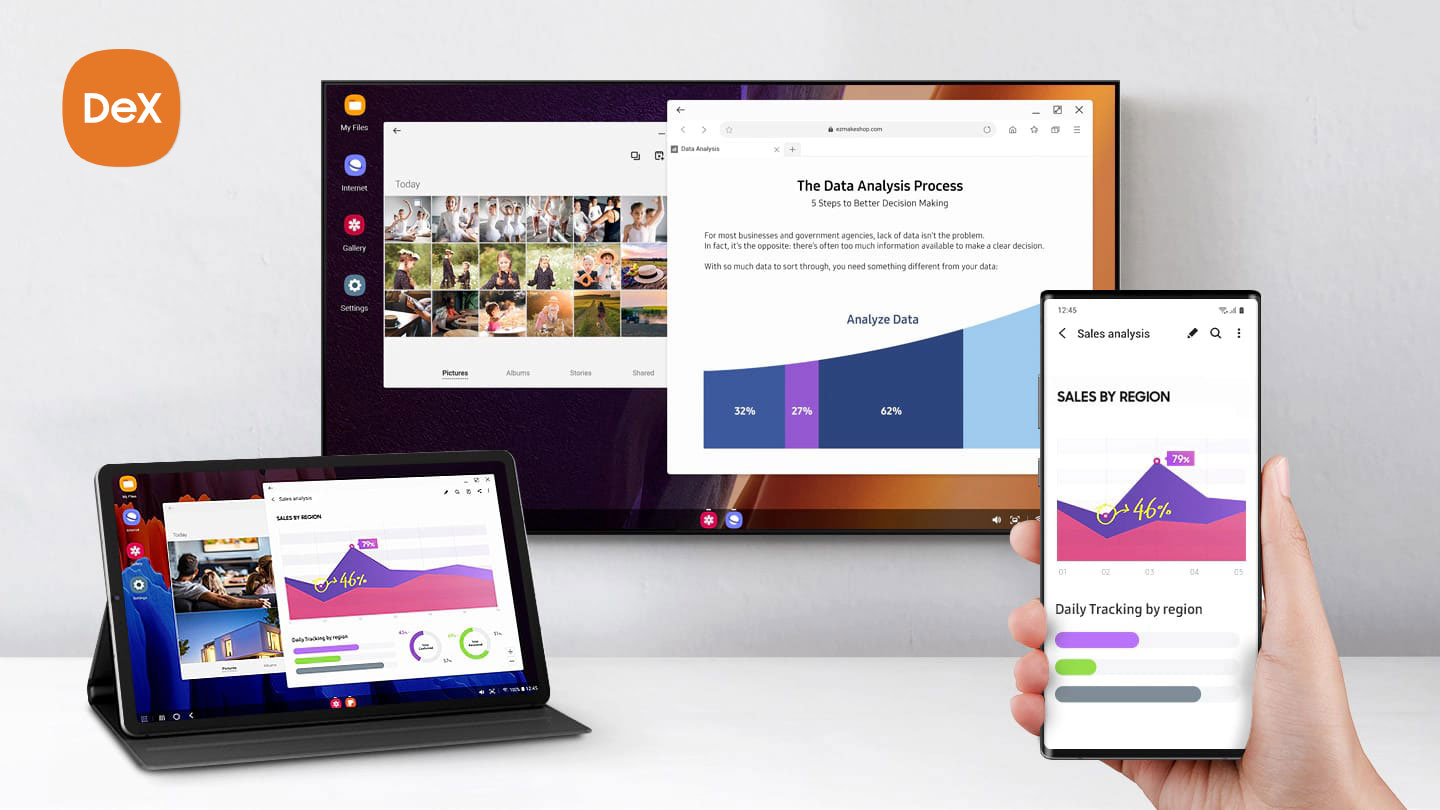 How does it work?
With a Samsung DeX supported phone, you are literally carrying a computer in your pocket. All you need to get started is a monitor, a DeX USB-C adapter / hub and your usual peripherals (keyboard, mouse). Once connected to a monitor, the Samsung DeX platform boots up quickly, presenting you with a familiar desktop experience — complete with resizable windows, drag-and-drop functionality and the same keyboard shortcuts.
If you have a Smart TV or monitor that supports Miracast, you can use DeX wirelessly. With larger tablets, DeX can be used directly on-screen with a keyboard case, as well as on a connected monitor with an external keyboard and mouse.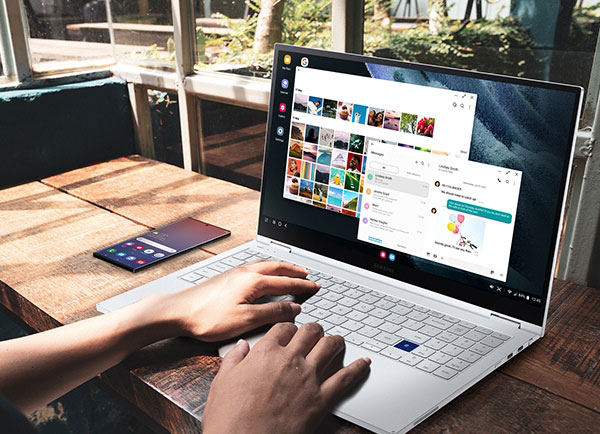 What devices are compatible?
Samsung DeX is available for the latest Galaxy S series phone, S9 and above. It is also available for Note Series, Note 8 and above. Also, the Z fold series phones and Tab S4 and above.
Most apps run in DeX mode, and more than 70 of the leading apps your employees use are already optimized for Samsung DeX including Microsoft Office and Google Docs.
And security?
Businesses can use the Samsung Knox platform to secure the way Samsung DeX works, allowing them to benefit from the Knox Platform's defence-grade security features without sacrificing the innovation and productivity that comes with DeX.
Want to know more?
Using a collaborative approach, we work with clients to fully understand your operational requirements and to provide a turnkey solution. Get in touch If you would like to connect with one of our experts to understand what Samsung DeX can do for your business.